G-BZGL (99+26)
The arrival of G-BZGL at Duxford marked not only a new chapter in the history book of GWOBA
- The first phase of GWOBA mission completed after a successful move from Germany
- The first Bronco in the UK register (at this time only for the ferry flight)
- The first private Bronco at Duxford
- The first Turboprop in the care of ARCo
Thanks to Cole Pope for the arrival pictures
| | |
| --- | --- |
| | . |
| G-BZGL's arrival at Duxford on September 13, 2001 | Some of the Duxford collection in the background |
..

Engine shut down in font of the ARCo hangar

The third bird in their care, that likes jetfuel.

But the first turboprop

--------------------------------------------------------------------------------
-

--------------------------------------------------------------------------------

..

Thanks to Nils Tolle for the picture

Static display of G-BZGL during "September airshow 2003" Thanks Rob for the picture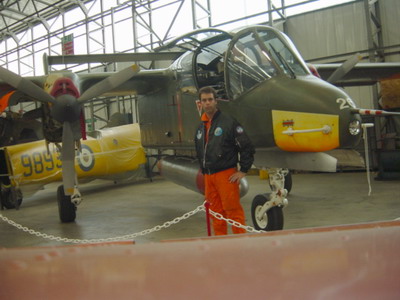 PCO Markus Rheinländer answers questions during the September 2002 airshow at Duxford, in front of G-BZGL
------------------------------------------------------------------------------------------------------------------------------------------------------------------
After G-BZGK got her permit to fly, it was time for G-BZGL to replace her in ARCo's workshop.
| | |
| --- | --- |
| | ... |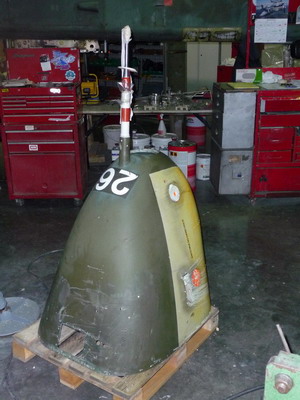 ..

A cheerful Joe Kennedy

(G-BZGL's Bronco Chief Engineer)

proudly showing freshly refurbished - replated - undercarriage parts ready for re-assembly

A further collection of undercarriage parts fully refurbished - paint stripped and finished in MIL spec white topcoat


..

A finished main undercarriage leg ready for re-installation. All parts have been non-destructive tested (NDT), plated and painted as per the original spec. All parts are refitted with new bushing. The work constituting a full overhaul to

as new condition.


..

Ted Hagger, the main sheet metal repair engineer, is checking the OV-10 documentation for the correct repair scheme to be applied.


..
The left side of the LH undercarriage bay before refurbishment.

The right side of the RH undercarriage bay halfway

through refurbishment. A most amazing improvement

when compared to the picture on the left.


...

All flying controls have been removed for

deep inspection and full overhaul

..

The currently installed engines are to be replaced

by overhauled examples, which are already at hand,

in due course.

No efforts are spared, all critical areas are fully paint stripped and NDT checked as per the original USAF Technical Order (T.O.). The end result will be an airplane which is as good as when it left the factory new!

| | |
| --- | --- |
| | |
| Rudder bell crank ABDR removed and being reworked to as new condition. | Sidewall panel restored to fully original spec. |
| | |
| Nose gear well stripped and repainted. | Main landing gear bays completely stripped and repainted with original spec. paint system. |
| | |
| --- | --- |
| | |
| Nose section stripped and repainted. | |
| | |
| | |
| | |
| | |
| | |
| | |
| | |
| | |
| | |
| | |